What is HYDRO PRINT?
This is a printing technology in which colors develop when the printed surface is wetted with water and disappear when it dries. When the printed surface is dry, only the printed design on the surface is visible, but when wet, the design printed on the reverse side rises to the surface.
The same phenomenon occurs in high humidity (95% humidity or higher).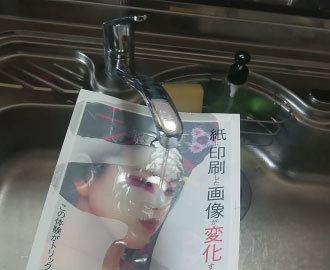 ①Technical Overview | Product Specifications
When the printed surface is dry, only the printed design on the surface is visible due to diffuse reflection of light, but when wet, the media becomes translucent and the smooth coating absorbs light, bringing out the printed design on the reverse side.
| | |
| --- | --- |
| | |
| When dry, the surface is uneven and diffusely reflects light. | When wet, the bumpy surface of the material is covered with a thin film of water, flattening the surface so that light does not reflect diffusely. |
This media uses hydrophilic silica (which absorbs water and is used as a desiccant, ink absorbent, matting agent, etc.) that becomes transparent when wetted with water. When dry, it is white and opaque (the underlying substrate is slightly transparent), but as it absorbs water, its permeability increases and the underlying substrate becomes visible. When the water dries, the media returns to its original state, so it can be used over and over again.
HYDRO PRINT direction (2 patterns)
Special placement printing technology that is completed only by inkjet printing
Change from monochrome to color
A picture will be added.
When dry
When wet
When dry
When wet
How HYDRO PRINT Works (Printing Hierarchy)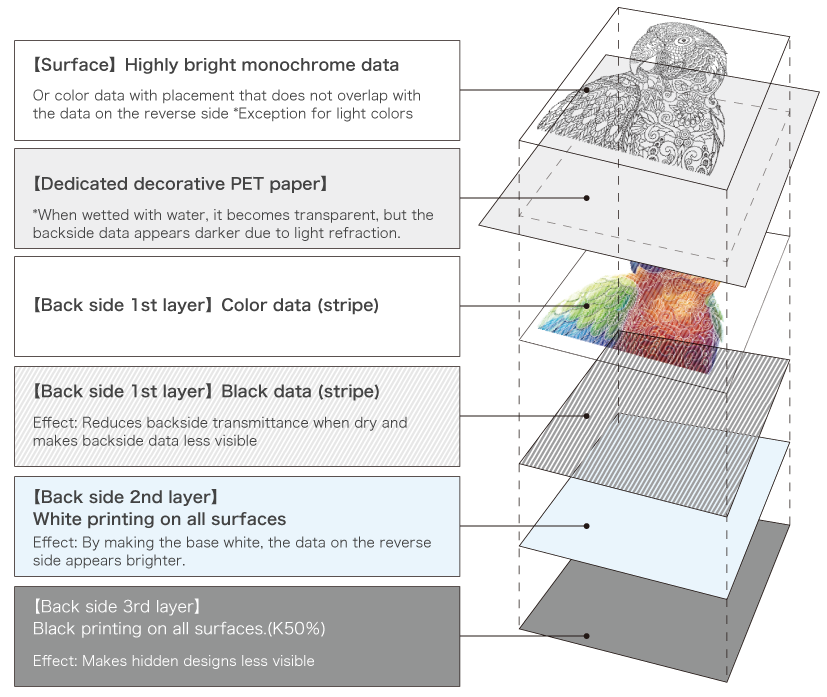 ②Notes on installation and use
After wetting, dry the product so that no puddles of water remain.
The trigger for the appearance of the hidden design in HYDRO PRINT is "water". The hidden design will appear when it rains or when it gets wet with water using a misting spray or water gun.